OKLAHOMA CITY, Okla. – Oklahomans are finding satisfaction with the current presidential administration, despite acknowledging the divisions in America today.
"My grandpa told me a long time ago, 'Find something you love and you'll never work a day of your life.' I ain't worked yet. I just get paid to play," Jay Lewis said.
From his cowboy hat down to his boots, life as a cattleman is in Lewis's roots. Lewis raises cattle in New Castle, Oklahoma, and works off the ranch in Oklahoma City at the Oklahoma National Stockyards, the world's largest stocker and feeder cattle market.
"About 10,000 head of cattle pass through here a week," Lewis said.
Larry Bryant has been hauling cattle to and from the stockyards for 45 years. He shares the same level of gratification toward his profession.
"It's been good to me," Bryant said.
Lewis and Bryant recognized the divisiveness that exists within America, but their concerns for the country revolve around the agriculture industry. Both men acknowledged that Americans do not understand where their food comes from.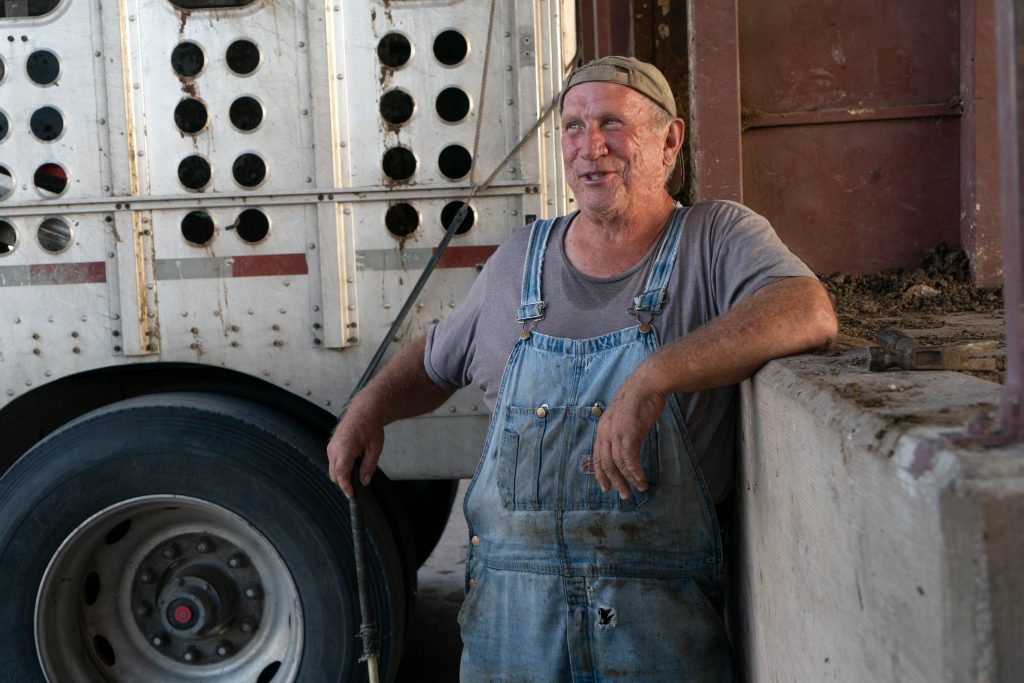 Bryant said his granddaughters are always asking when they can go get fast food.
"People go to the store and bring it home. They don't realize what all went into getting that cow to where it's at," Bryant said. "What we eat comes off the farm, no matter how you look at it."
Lewis added: "A lot goes into it and I think sometimes people take that for granted."
As a cattleman, Lewis is proud to contribute. It's a privilege to be able to walk into the grocery store and buy food off the shelf, he said.
He described it as simply one of many liberties he believes accompanies life as an American, but it goes deeper than that.
"I was never in the service, but 1 percent of the world protects our freedom. Ninety-nine percent wakes up and enjoys it. I'm in that 99 percent. I don't take that for granted by no means," Lewis said.
When asked to describe the country in three words, Lewis responded: "God Bless America."
In Elk City, Oklahoma, 100 miles from the stockyards, the political convictions are more pronounced.
For pawn shop owner Steve Scout, his political beliefs are identifiable near the store entry of his shop where he displays a "Make America Great Again" sticker, but the political décor does not stop at the front door. Signs supporting Second Amendment liberties, the NRA and anti-democratic commentary decorate the front wall of the store alongside rows of bows, guns and ammo.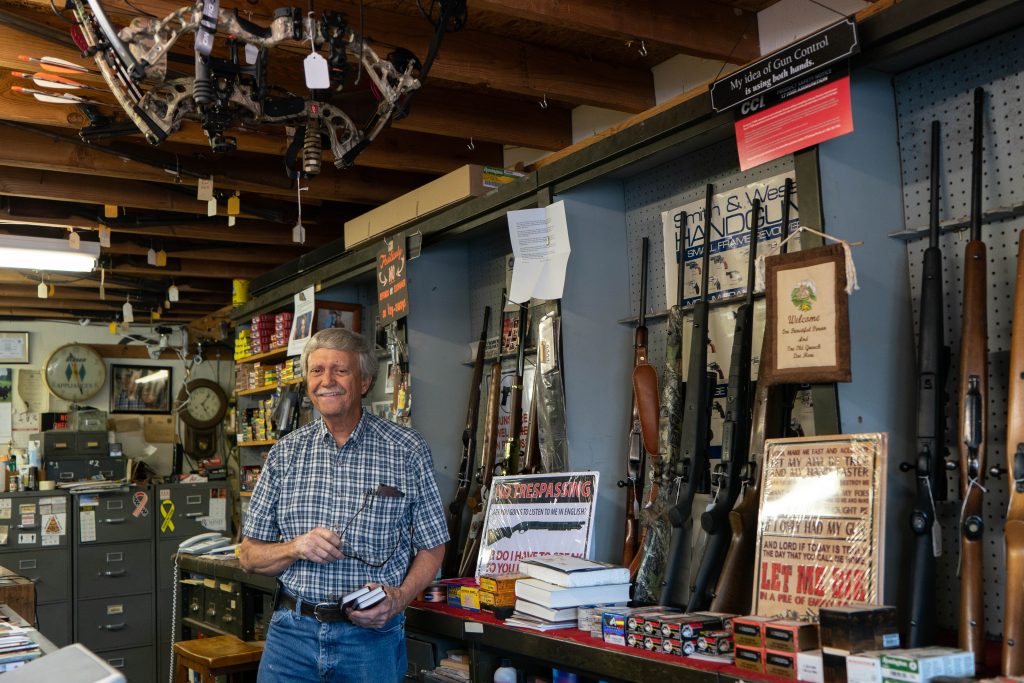 "We have never been more satisfied with our current president," Stout said.
For Stout, the only president that deserves as much praise as President Donald Trump is Ronald Reagan. Despite his satisfaction with the presidency, he isn't afraid to speak out against what he believes are the country's inadequacies.
"We've become an entitled country," Stout said.
One customer at the pawn shop agreed with Stout.
"People don't need welfare, they need a job," Rev. Larry Parvin said. He explained that the local prison was searching for additional employees, but no one wanted the positions.
"We'll help people, but I'm not going to give half of my check to somebody that just wants to sit around on the couch and watch TV," Parvin said. "Get a job."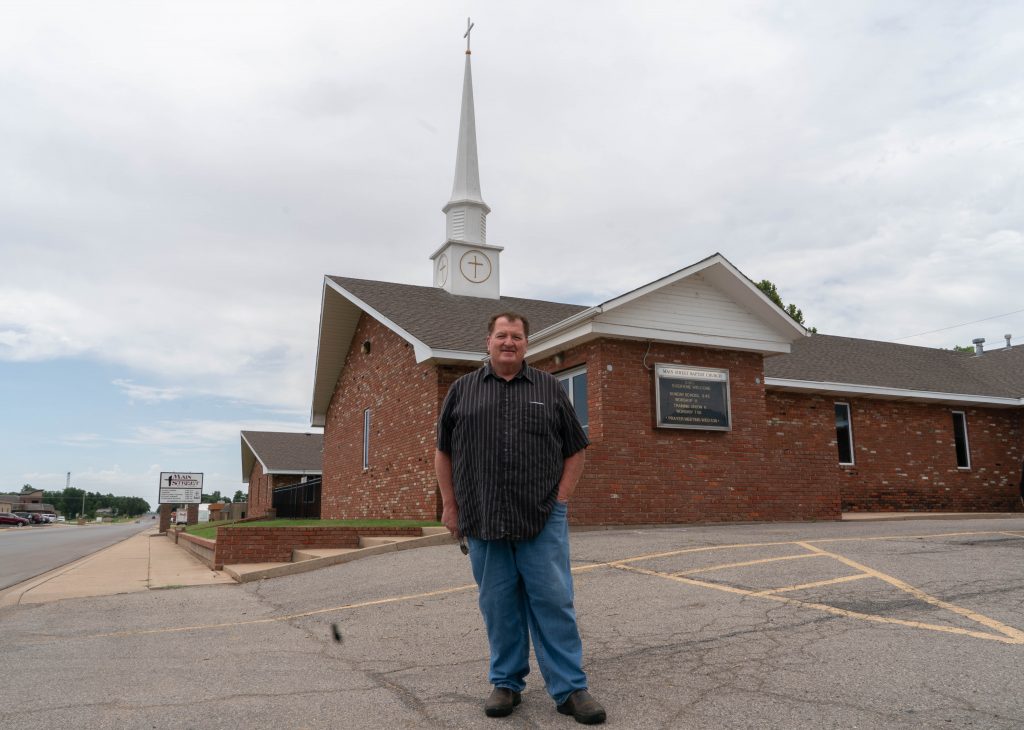 Stout said we've got more jobs that we have ever had in 50 years.
"And it's getting better everyday under my president, President Trump," Parvin quickly added.
The town of 11,000 attracts a high number of tourists each year due to its location along Route 66.
News21 met local radio host Nathan Brewer and his colleague, Gabe Edeny, at Beyond the Pallet Coffee Shop in Elk City.
"These people are real," said Edeny about people out West.
Oil dominates the local economy and is part of the Route 66 spectacle that attracts tourists.
"Tourists love to take pictures in front of our oil rig," Brewer said. He was previously the host of a one-hour radio program exploring energy and how it influences life for the Elk City community.
"When the oil fields are good and times are good, politics are secondary," he said. Brewer recounted the influence that Trump had on the local economy even before he was elected president.
Half of the oil industry is the economy and the other half is the attitude of people," Brewer said. "Donald Trump, theoretically, was going to be far more favorable to an energy industry than a Hillary Clinton administration, so people started getting really excited."
Not too long after, western Oklahoma oil companies began hiring again.
"Trump is who he is. For the people around here, it's not so much Trump love as relief that Hillary was not elected," Brewer said.
Brewer said engagement from local citizens can define the lives of those in the community.
"I think too many people are looking for salvation in politicians, which politicians won't deliver," Brewer said. "If people will go out and try to make a difference in their community, that will make a much bigger impact on their life and other people's lives by doing that, then by political activism."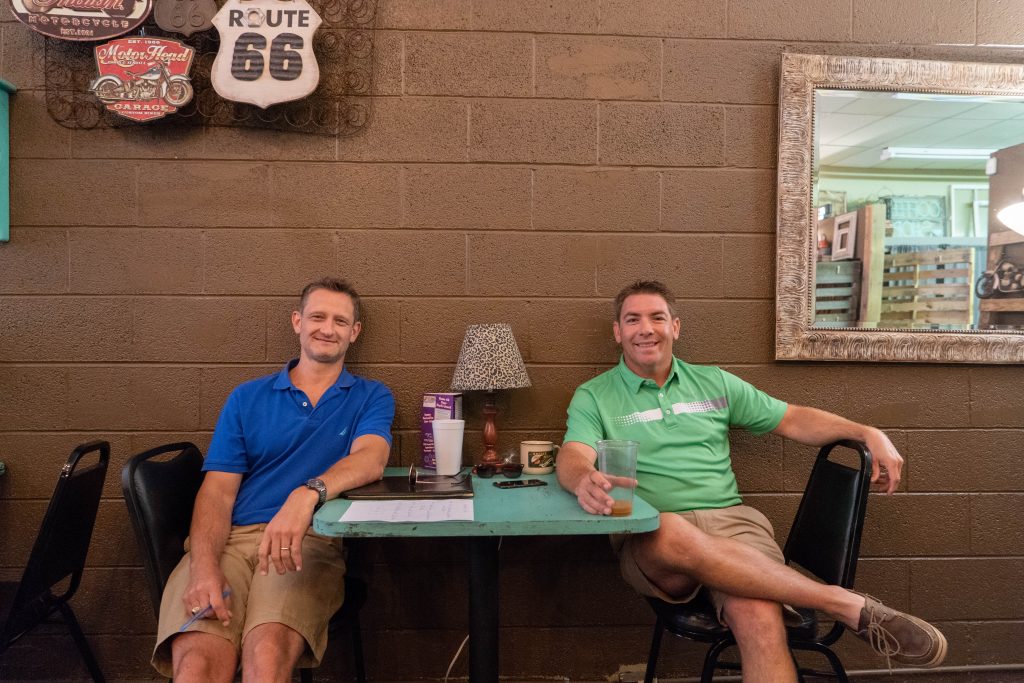 Edeny said the media tend to portray the president in a negative light.
"A long time ago as a kid, you couldn't talk about the president the way people do. Whether you like him or not, they [the media] take him to the bottom. I've never seen anybody talk about even Nixon to this level. I think it just causes more division," Edeny said.
Brewer added: "Step away from the anger and danger of politics and pay attention to what's going on locally."
When asked if he was optimistic about the direction of the country, Brewer chuckled and said: "Tuesday, Wednesday and Thursday, yes. Monday, Wednesday and Friday, no. And I take the weekend off. That's the short answer."
The really long answer, Brewer said, is politics divide the country.
"People need to divest themselves of politics and get more interested in their own family and where they live," Brewer said.
He offered a recommendation for ending some of the divisiveness in the country today.
"What I would like to see is people who disagree vehemently on political matters be friends and like each other," Brewer said.
News21 fellows Storme Jones, Brittany Brown and Rosanna Cooney contributed to this report.