On June 30, right-wing U.S. Senate candidate Joey Gibson, the leader of Patriot Prayer, an alt-right group based in Vancouver, Washington, organized a rally in nearby Portland. Patriot Prayer, the Proud Boys and antifa groups attended the event and it quickly turned into a riot. News21 reporters Scott Bourque and Rosanna Cooney interviewed members of the Proud Boys, a far-right group that attended the rally.
PORTLAND, Ore. – Chants of "Nazi scum go away – Immigrants are here to stay" competed with chants of "U-S-A! U-S-A!" during dueling protests in downtown Portland on June 30.
About 300 left-wing protesters, labor union picketers and members of far-left militant groups, known as antifa, demonstrated against right-wing U.S. Senate candidate Joey Gibson of Patriot Prayer and roughly 150 supporters from his group, the Proud Boys and other right-wing organizations.
Although it was an approved and permitted rally in Terry Schrunk Plaza, it would soon turn into a riot.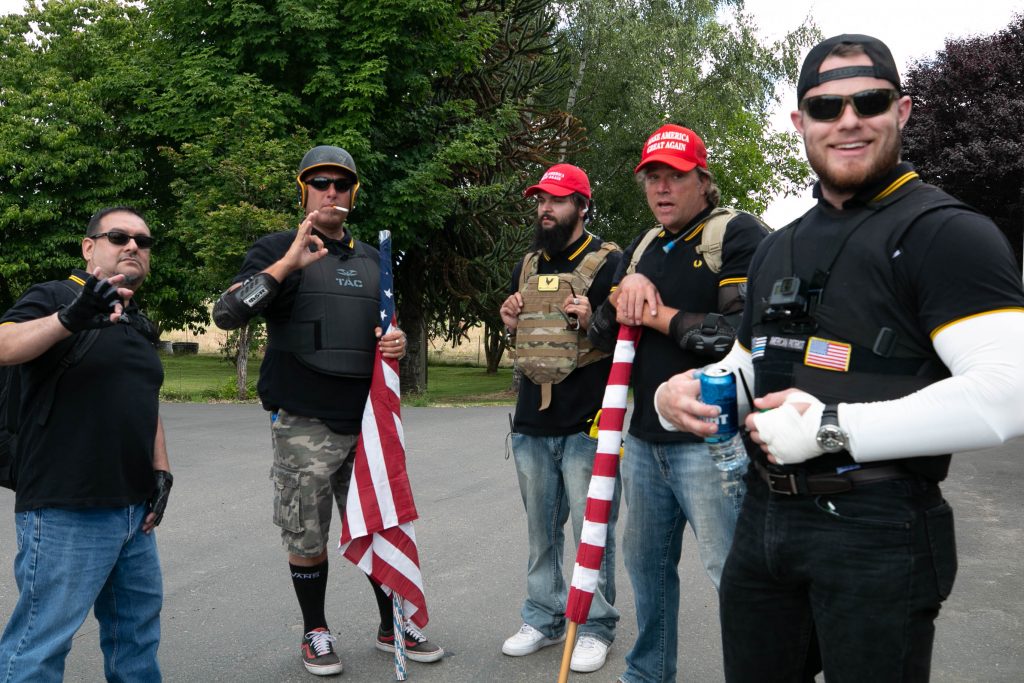 Many of the far left-wing members of antifa wore black with bandanas covering their faces. The right-wing protesters wore American flag bandanas and patriotic clothing.
At the rally, they dehumanized each other by shouting derogatory names such as "Communist," "pedophile," "Nazis," and "Snowflake," much like military propaganda wings do.
Protesters lobbed water bottles, eggs, firecrackers and rocks at each other. Fights broke out. Punches were thrown. Ambulances were called. After about 30 minutes, the Portland Police Bureau declared a riot and riot control police dispersed the crowds. Four people were arrested, and news reports said several people were injured.
According to several Portland residents, this is nothing new – just a skirmish in one of the many battles in Portland. One resident described it as a "modern Civil War."
The belligerent groups on both sides of this rally pledge their allegiance to far different political ideologies.
Some of their battles are behind the scenes. Competing intelligence units routinely dox – publish personal information – about members of the other side. Both sides view their fights as honorable and just, and wage propaganda wars to recruit new members through social media.
Before the afternoon rally, far-right activists gathered outside a home in nearby Vancouver, Washington, and were briefed on their "enemy's tactics." With the "Braveheart" theme playing in the background, the activists discussed the plan in between chugs of Bud Light and Pabst Blue Ribbon beer and shots of tequila from a plastic water bottle.
Many of them brandished large cans of pepper spray, stun weapons and hard-knuckle gloves – all of which would be later confiscated by Homeland Security in Portland or left on their bus, which took them as a group to the downtown Portland protest.
Before boarding the bus into "battle," the Proud Boys – a group of self-described "Western chauvinists" and a designated right-wing extremist group by the Southern Poverty Law Center – gathered around for a brief prayer.
"Lord, we are standing on your will," the prayer leader said. "Every form of evil that is set against us shall not prosper."
The "evil" he refers to is antifa, he said. Daniel Garris, a member of the Proud Boys, said standing up to antifa and preserving free speech is his calling.
"We started getting calls from people who were being assaulted…elderly people, disabled vets, young people…being spit on and assaulted just because they had dissenting views," Garris said. "We were the only people that stepped up and put ourselves between those people. And we'll do it until the day I take my last breath. Period."
Members of Rose City Antifa, the main anti-fascist group in the Portland area, said free speech protections don't apply.
"The First Amendment and related free speech laws protect citizens from state interference, not from criticism by the public," according to antifa's website. "We target individuals and groups that are organizing along fascist lines. Their public events don't exist to benignly express ideas, but to build the power they need to enforce their vicious world view."
At the counter-protests, one of the News21 reporters spoke to a member of antifa, who said she wanted to remain anonymous and her group didn't want to appear on camera.
"People here don't want you to film them," the activist said. "That's why we're all masked up and stuff. Identity and various things. (Our activities are) out there, the media chooses not to portray it in the actual light that it is."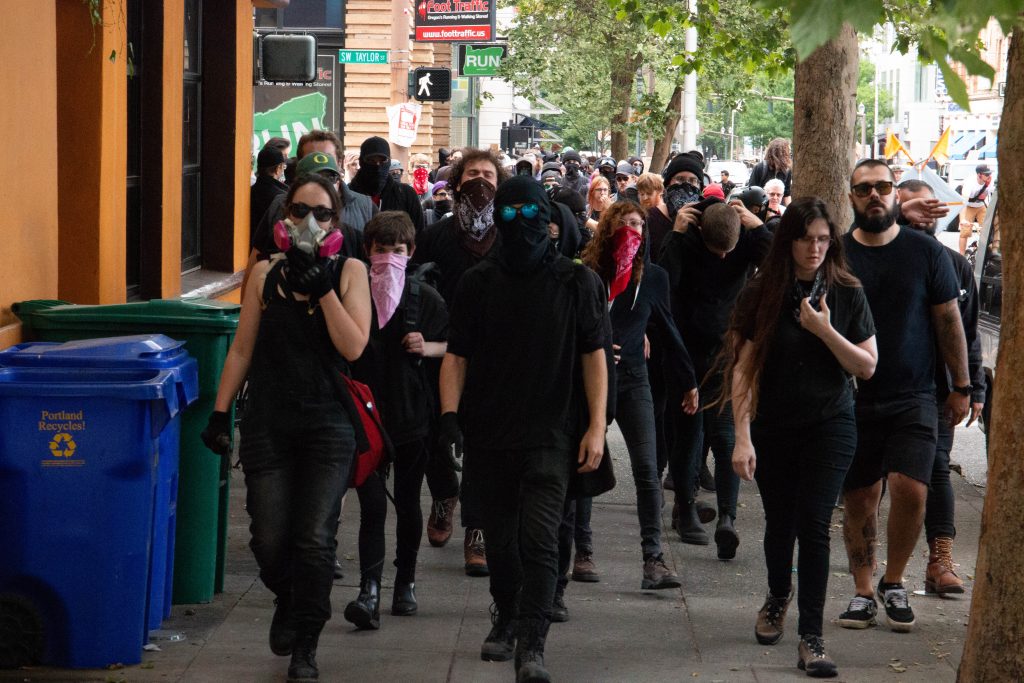 Rose City Antifa members dox people they believe to be fascist sympathizers. In June, they doxxed 17 members of the Pacific Northwest Proud Boys, revealing their addresses, social media accounts, vehicles and license plate numbers.
Members of the Rose City Antifa train for combat. Although the group is secretive, the day after the riot, antifa posted a photo of several members armed with what appear to be semi-automatic rifles.
"A few of our bravest brothers, sisters and others, unmasked to show you Beta Conservatards that we mean business," the post said.
But if combat at the Portland rally turned violent, both sides were prepared. Justin Bentley, a medic for the Proud Boys, carried a large backpack with medical supplies. Several others carried tourniquets, gauze and personal medical kits. They were needed.
Mack Lewis, who attended the rally, said he objects to the Proud Boys being called a hate group by the Southern Poverty Law Center.
"Once you know the facts, (it's) in no way, in any form, a hate group," he said.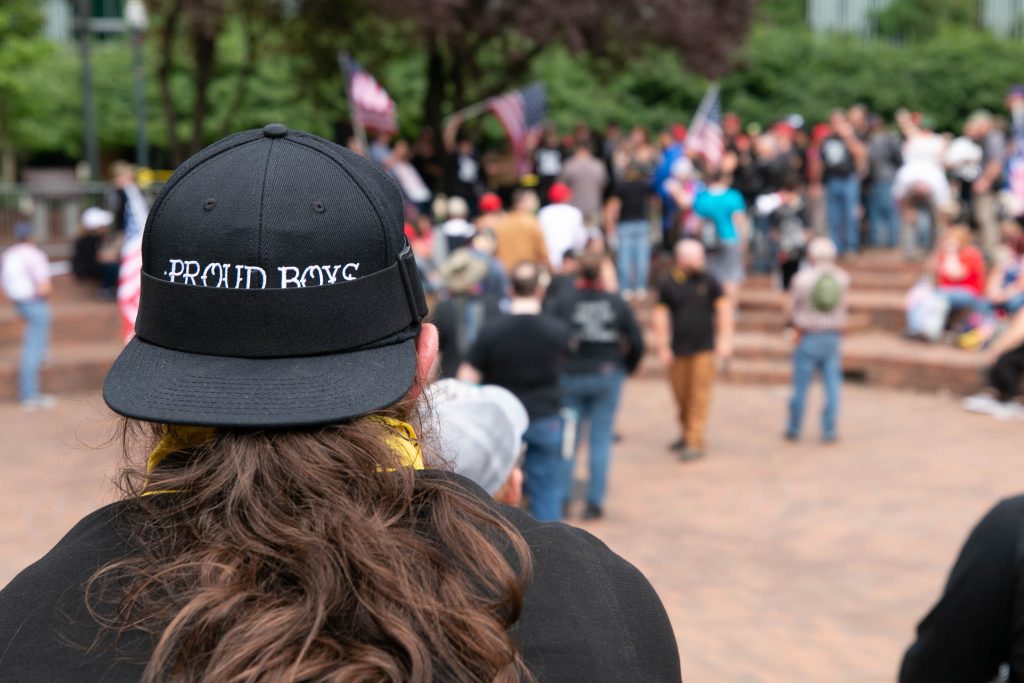 Right now, America is in what Lewis calls a "soft civil war." It isn't fought by standing armies. It's fought by ideologues. Their battlefields are in the streets and on the internet. Getting their message out there is important, he said.
"People have just been manipulated," Lewis said. "You've got the sides that have been lied to. They've been manipulated by fake news."
After the Patriot Prayer rally ended abruptly, members of the Patriot Prayer and Proud Boys began a march down Southwest Third Avenue in Portland. Within seconds, antifa members, who had been staged in Chapman Square, across the street from the federal plaza, began blowing air horns, throwing water bottles and lighting off firecrackers and smoke grenades.
Police in riot gear broke up several fights – some of which involved weapons like clubs and flagpoles. Antifa members took wood planks and boards from a construction site to use as shields. On Main Street, between Third and Fourth avenues, there were at least two large explosions, which turned out to be stun grenades, also known as flashbangs. What seemed to be tear gas and pepper spray were deployed, but antifa, the Proud Boys and the Portland Police all deny using it.
After the flashbangs went off, the Portland Police Bureau, using a loudspeaker attached to a police SUV, declared the event a riot, revoked the march permits and ordered the crowds to disperse. The Patriot Prayer marchers regrouped to the plaza to hold a short prayer service, while the antifa protesters returned to Chapman Square. Riot police stood between the two parks.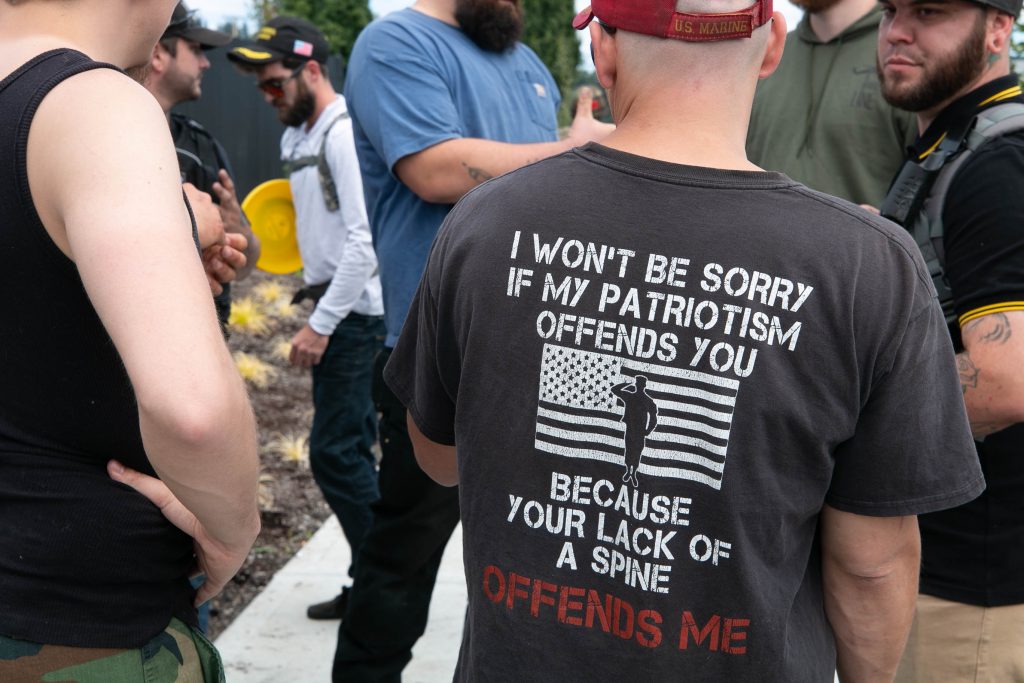 Protesters on both sides of the issue said they believe they'll be judged positively by history.
"I think that we're on the right side of things," Lewis said. "Whatever happens, I'm not really too worried about it."
News21 reporters Rosanna Cooney and Tessa Diestel contributed to this report.